The GDA is an association of Professionals & Intellectuals from different streams of Arts and Performing Arts and its main purpose is promotion and creation of a platform for Designers and Artists to showcase their talents and share their expertise nationally and internationally.
Under this umbrella, Professionals from various Design fields like Product Design, Graphics, Interior Design, Architecture, Landscape, Industrial Design, Fashion & Lifestyle, Textile, Arts & Crafts in every form Contemporary or Traditional and Performing Arts are brought together and showcased to the world.
It addresses the needs and aspirations of the design fraternity in India and around the world and seeks to improve the quality of life, as well as to help improve the economy at large.
One of the key agendas of the association is also to create opportunities for the Traditional Arts and Crafts to be used in private and public spaces in order to keep the rich cultural heritage alive.
Forthcoming Event – Interior LifeStyle Award – 2018
About Interior Lifestyle Award
The Guild of Designers & Artists and Messe Frankfurt Trade Fairs India Pvt. Ltd together organise the Interior Lifestyle Awards alongside Ambiente India and Heimtextil India exhibitions. Interior Lifestyle Awards provides the country's ambitious textile and product designers a canvas to showcase their talents and get visibility on the international stage. For the imaginative, inventive, eccentric and those who challenge convention in home fashion, this is a chance to gain recognition on a renowned platform. Besides showcasing their creative skills to the who's who of the industry, these aspiring artists can explore and experience the latest trends and product developments at the fair.
The  selected  semi finalists get  an  an opportunity to showcase their designs  at the  Experience  Zone  as per  the  theme  laid down by  the  organisers  in accordance to the  latest home fashion trend.
The winners get an opportunity to showcase their works in Germany at the Heimtextil and Ambiente Fairs, hosted by Messe Frankfurt.
Interior  Lifestyle  Awards 2018  –  Jury
LIPIKA SUD
Lipika Sud is one of India's leading Interior Designers. She is the Founder Director of 'Lipika Sud Interiors Pvt Ltd' and has been practicing Interior Design for over two decades. She has designed several projects in India and Abroad.
She is currently the President of The Guild of Designers & Artists. She is the Co-Chairperson of the Indo-American Chamber of Commerce (Infrastructure) and the Director on the Board of the National Federation of Tourism & Transport Co-operatives of India.
She was honored with the "FICCI FLO Outstanding Women Achievers Award 2013-14". She is the recipient of Entrepreneur of the Year Award "13" by Yes Bank –SRCC Alumnus.
She was awarded the "Design Professional of the Year" by Indian Home Congress'12, adjudged the "Interior Designer Of the Year" by Builder Information Bureau and the "Best Interior Designer for Creative Excellence"– Society Interiors.
Alex  Davis
Alex Davis is an artist and a designer, who lives and works inew Delhi, India.
A graduate of Mechanical Engineering, went ahead to do a Masters Diploma course in Product Design from the National Institute of Design, Ahmadabad and then got his Masters degree in Industrial Design from Domus Academy, Milano, Italy.
His work epitomizes 'India Modern'. One of the first to exhibit collections for Interior and Exterior spaces, he has set a bench mark for original and contemporary design.
He has been showing his works through solo shows in various art galleries across India as well as at prestigious international fairs like Scenes d'interieur at Maison et Objet, Paris, Solone del Mobile, Milano  and Abitare il Tempo, Verona.
Leena Singh
Leena Singh is curator of the couture fashion label Ashima-Leena, a brand known globally as much for its dedication to traditional Indian craftsmanship as for its modern, versatile style and sensibility. As one of the most recognized and senior designers of the country, Ashima-Leena has successfully retailed all over the world. The brand speaks of sheer elegance and panache and their unique element of Indian heritage is woven with global timelessness and great craftsmanship.
A post-graduate in English Literature and Law, Leena's first passion is fashion. Her career spans more than 25 years and she has made a significant contribution in the retail and merchandising sectors of the industry. She is a founding member of the Fashion Design Council of India (FDCI) and served as a governing board member for six years.
  Interim Jury at Le Meridien on 17th April 2018
Ms. Lipika Sud – President
( The Guild of Designers & Artists )
Ms. Priyanka Pawar – Group Exhibition Head
( Messe Franfurkt )
Mr. Alex  Davis –  Artist / Designer
Ms. Leena Singh –  Fashion Designer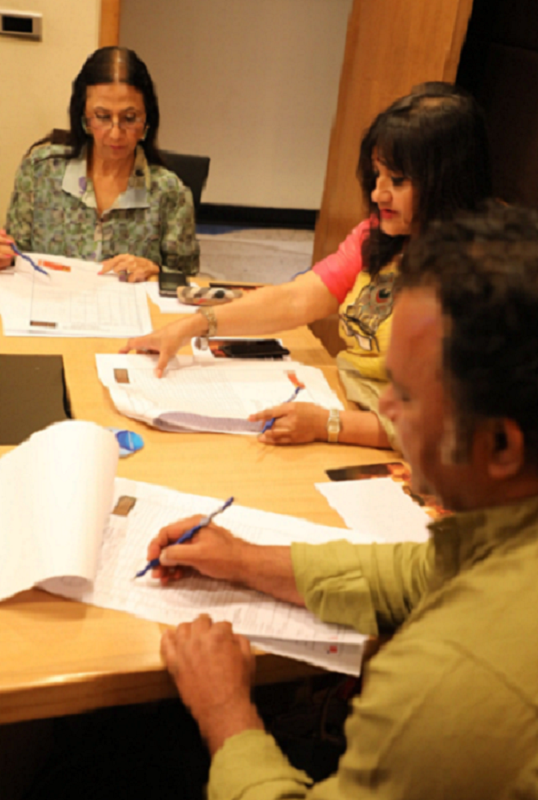 Ms. Leena Singh –  Fashion Designer
Mr. Alex  Davis –  Artist / Designer
Ms. Lipika Sud – President
( The Guild of Designers & Artists )
11 finalist  showcasing at  Experience zone in Pragati Maidan from 27th – 29th  June 2018
The  Guild  of  Designers  & Artist  Booth  at Ambiente & Heimtextil 2018
Adveita Mathur
Advaeita designs are about celebrating individuality, curiosity and creativity. She is committed to intriguing design made from unconventional materials.
She loves experimenting and innovating and to observe and take inspiration from everyday objects and adapt traditional techniques and crafts to create something new and contemporary. The focal point is understanding the inherent characteristics of different materials and yet amalgamating them, such that the inherent textures are enhanced further and lend themselves to beautiful and functional art pieces.   Each piece created  is one of it's kind making it a 'collectible object d'art'. A History Hons graduate from St. Stephens, she also has a degree in Fashion from the Istituto Marangoni in Milan.
Parth Parikh
Parth Parikh has a master degree in Product Design from Domus Academy, Milan. He founded Design Clinic India in 2015. It is a Delhi based multi-disciplinary design studio with an expertise in the field of furniture, lights & interiors that draws its inspiration from its country INDIA. The brand believes that "Our country never fails to inspire us". Swearing by the one off quality that incorporates Indian art, craft and the local scenarios of India, to create contemporary products. Design Clinic India has also exhibited and represented India in some of the most important international exhibitions in the world like Milan Design Week and Dubai Design Week.
Ankomn Mitra
He is an architect and pioneer of origami techniques in India. He is Director at Hexagramm Design Pvt. Ltd., a Delhi based Studio. Through the initiative – Oritecture, his Studio has taken the art and craft of Origami to materials beyond paper, such as sheet aluminium, brass, steel, leather, polypropylene, fabric, wood veneer etc. The essence of Oritecture is the folded aesthetic, and the brand encompasses diverse products and solutions such as lighting, tableware, furniture, wall and ceiling coverings, rugs, as also accessories and jewellery. He calls this diversity – the 'Folded Universe'. He has an award winning practice with clients like BMW, Toyota Lexus, the APL Apollo Group, and numerous others. Oritecture's unique products, installations and art, have been shown at exhibitions around the world and are part of prestigious collections in India and across the globe.
Jwalant Mahadevwala
Jwalant has a post graduation from architectural association London and has a work experience with Zaha hadid architects. He and his partner kanika believe that the design process should be robust enough to inform all stages of design, from concept to detailing. They constantly challenge themselves to rethink these processes to suit the project.. Their design studio, "andblack" has in its core to achieve energy efficiency that deploys intelligent systems and makes use of natural materials smartly. The use of parametric tools and physical modeling are the primary ways in which they evolve their designs. They tend to use materials like metal, wood, bamboo, paper etc in ways they haven't been explored generally in the larger context of design in India.
Interior Lifestyle Awards'18 (ILA) & Exhibitors Night
on 27th June'18 at 7:15 pm at the Le Meridien
hosted by Messe Frankfurt & The GDA
A night to felicitate, encourage and interact with the young talented Designers who have participated in the competition.
The awards to be given by Mr. Alex Davis, Ms. Lipika Sud & Ms. Leena Singh.
Attendances by invitation only.
Panel Discussion at Ambiente and Heimtextil INDIA 2018
on 28th June 2018 titled "Indian Textiles- An Untold Story"
David Abraham
Abraham and Thakore
Mandeep Negi
Shades of India
Lipika Sud
Lipika Sud Interiors